The Anna M. Moses Clerks Office can be reached at (360) 716-4773. Please press Option #5.
On December 14, 2018, the Tulalip Tribal Court team honored Annie Moses by naming the clerk's office "The Anna M. Moses Clerks Office" for her dedication of 28 years+ of service at the Tribal Court. Annie is a member of the Tulalip Tribes and is now officially retired. Our hands up to Annie!
The Clerk's Office Team
The Clerk Team has several Court personnel who are all Officers of the Court and their main function is to provide administrative civil & criminal support to the Judges, and serve the community in the day-to-day operations of the Tribal Court.
Court Specialists are strictly prohibited from dispensing legal advice; they may, however, provide you general information depending on your case.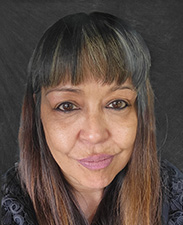 Court Clerk Manager
Wendy Church, is an enrolled Tulalip Tribal member and began in the Clerks Office in October of 2021. She received her Bachelor's degree from Columbia College in criminal justice and her Master's degree in Public Administration with an emphasis in Tribal Governance in 2008 from Evergreen State College. She has over 20 years of combined experience in legal office and court work. Ms. Church also served on the NW Intertribal Court System Board for over ten years and also benefited from the National Judicial College Court Administrator program. Her Master's Capstone, The Resurrection of the Tulalip Tribes Law & Justice System and its Socio-Economic Impacts can be found at on the Tulalip Tribal Court website, under About Us-- Tulalip Justice History.
FOR YOUR INFORMATION
Filing Court Documents in-person:
Notice: The Tulalip Tribal Court is phasing out E-Filing temporarily while we investigate/explore e-filing software. Please know we are actively pursuing e-filing options & will update the public soon. You can file at the Clerk's Office window or by U.S. Mail. Any documents you would file at the Tulalip Tribal Court can be filed either at the Clerk's window or by U.S. mail.
Filing Hours:
Monday through Thursday, 8AM to 4PM
Fridays, 8AM to 12PM.
***The Clerk's Intake Window is closed from 12PM to 1PM; No filings are excepted during the lunch hour.
(Any filings accepted outside these hours will be processed the next business day).
Filing of New Petitions:
1.4 Filing and Pre-Marking Requirements. When filing any commencement of a new action, the filing party must personally file the pleading with the Court; the party or attorney must provide two (2) copies, one for the Court, and one to be conformed for the filing party, which may be delivered in person or by mail. Pleadings delivered in person must be filed by 4PM. If filed by mail, a self-addressed stamped envelope shall be included.
Payments/Fees:
You can pay with a check or money order if sending payment via mail (please reference case no. or citation no. for faster processing). If making payment at Anna M. Moses Clerk's Intake window, we currently accept, cash, check, money order, and credit/debit cards. NEW! We are now able to accept credit/debit card payments by phone. Please call 360-716-4767 and one of our Court Specialists will be happy to assist you. IMPORTANT: You must provide a case number and date of birth for verification for phone payments. Thank you for your understanding and patience while we implement these new processes.